PROFESSIONAL TREE CARE
Serving the Charlotte Area for Over 20 Years
Dormant Season is an Ideal Time for Pruning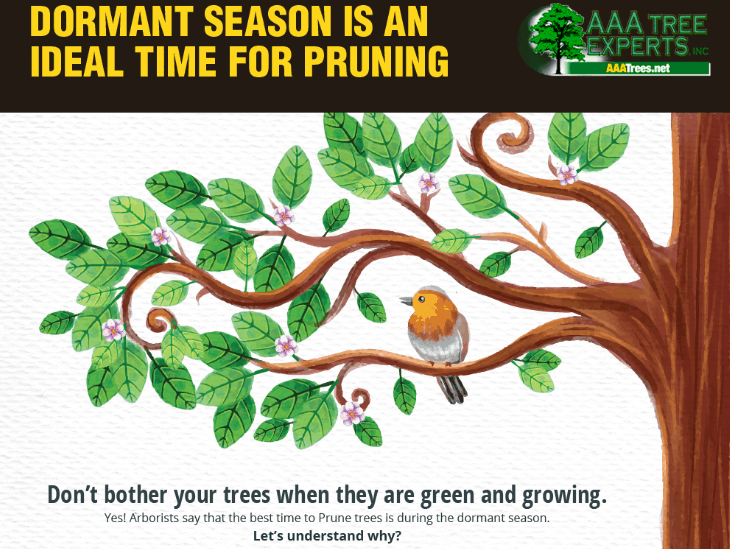 Dormant Season is an Ideal Time for Pruning
Don't bother your trees when they are green and growing.
Yes! Arborists say that the best time to Prune trees is during the dormant season.
Let's understand why?
Disease Control
Fresh cuts made to the tree during the dormant season are less vulnerable to attracting disease-carrying insects that are transporters of bacteria and fungi.
Weather Ready
Getting rid of damaged and weak limbs from a tree helps use its nutrients in a better way. Pruning also gives the tree higher scope to increase its strength and deal with bad weather conditions.
 Healing Fast-tracked
Winter pruning proves to be less harmful as it leaves the tree with a faster recovery system to initiate robust and finer growth in spring.
Focused Pruning
When trees are leafless they provide arborists with a better vision to determine a healthier structure and hence promotes a focused pruning session.
High in Efficiency
As trees have lesser leaves, it makes it easier for arborists to do their job in a more precise manner due to the increased amount of accessibility. Yes, it certainly results in lesser damage.
Welcomes Sunlight
Pruning is good not just for the tree but also grass, as it opens the canopy and makes way for sunlight.
To avail best tree pruning services in Charlotte NC, consult AAA Trees Experts Inc
You can reach us at 704-366-1134
Share This Post
Leave A Reply