PROFESSIONAL TREE CARE
Serving the Charlotte Area for Over 20 Years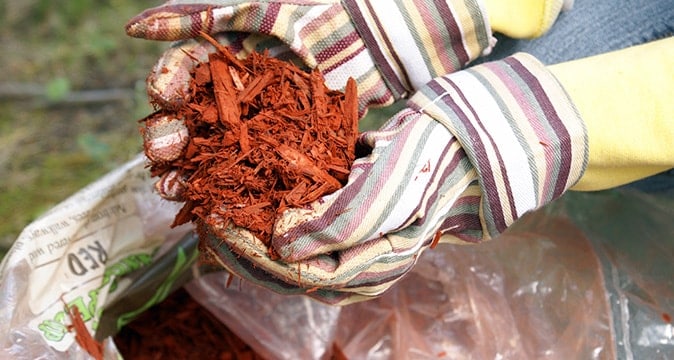 Proper Mulching
Unreasonable use of mulch usually leads to long-term problems for your trees. When too much mulch is piled up against the tree trunk, so that it looks like a "volcano".  is highly destructive to any tree (especially young ones). Excess moisture/vapors will build up on the trunk, making it open to mold/mildew/fungus to damage the trunk and start decay, stunting the growth of the tree, blocking off nutrient/gases/oxygen flow, and eventually killing your tree.
Why mulch? Mulch keeps roots warm in the winter and cool in the summer, controls soil erosion, reduces evaporation (conserving soil moisture), reduces the nutrient loss due to other plants/grass around your trees, provides weed control and an environment for beneficial organisms/microorganisms/insects to supply healthier soil, eliminates stress in shallow-rooted plants, is aesthetically pleasing, and can also be used to create a no-mow zone.
Summer: Mulch will help to provide even moisture and cooler soil for the plant's roots.
Winter: Mulch will help to provide warmth and protect the plant and its roots from freezing.
How to properly mulch a tree: Find the root flare of the tree (the place where the trunk begins to flare out before it connects with the ground). Pull grass/floral plants/perennial weeds from the area around the roots. You can begin placing mulch where the roots come down into the soil, away from the root flare. Two to four inches of mulch is all you need. If you put down a thicker layer of mulch, you will risk reducing oxygen to the tree's roots. Don't try to add more mulch every year, all you need is to rake the area and redistribute the mulch around the roots.
You will have much healthier plants and trees, better vegetable production, juicier fruits, a lower water bill, and less weeding. Plus, it's inexpensive, and there are lots of sources of mulch no matter where you live.
You can request FREE MULCH, courtesy of AAA Tree Experts!
Share This Post
Leave A Reply