PROFESSIONAL TREE CARE
Serving the Charlotte Area for Over 20 Years
Are you Noticing Dark Spots on the Leaves of Your Oak Trees?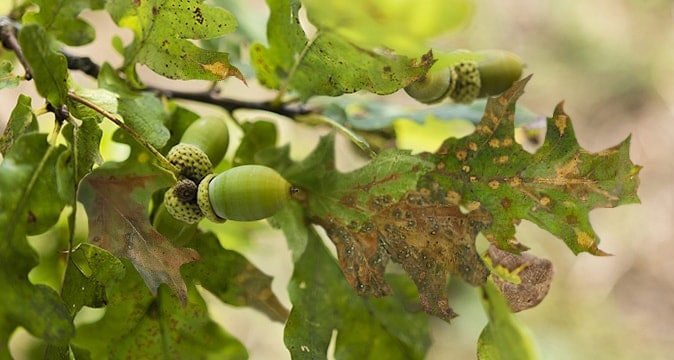 Are you Noticing Dark Spots on the Leaves of Your Oak Trees?
Tubakia (Actinopelte) Leaf Spot is a late-season (August, September) infectious leaf disease of oak trees. The initial symptoms of Tubakia leaf spot are dark brown or reddish-brown spots on leaves. Spots can appear on leaf veins, which can lead to the death of the veins and collapse of leaf tissue, resulting in the early defoliation of oaks. These are not to be confused with the symptoms of oak anthracnose, which develops earlier in the season (May, June). But don't worry, in most cases Tubakia Leaf Spot leaves the tree looking rugged, but will not kill the tree. Please DO NOT attempt to use fungicide sprays to try and combat Tubakia leaf spot. You can reduce the number of spores that cause this disease by removing and disposing of fallen, infected leaves (via burying, burning or composting) and watering and fertilizing trees appropriately.
Please Call 704-366-1134 or SCHEDULE AN APPOINTMENT on-line with an AAA TREE EXPERTS Arborist. We will do a complete evaluation to determine if a course of action is required. An evaluation with one of our tree care consultants is FREE OF CHARGE.
Share This Post
Leave A Reply